Every business owner will encounter legal issues while in business. These issues include selecting the right business entity, creating contracts to work with third parties, identifying and protecting their intellectual property, and most importantly receiving advice to avoid legal pitfalls before they incur. In the past, legal solutions for small business owners were limited to hiring an attorney who charged a few hundred dollars an hour, handling the matter themselves, or going without. Fortunately, the legal solutions for business owners going into 2022 have expanded.
Today's options include business attorneys, tech solutions such as LegalZoom, do it yourself with the help of Google, and legal subscriptions. Let's explore the pros and cons of each to determine the best legal solution for small business owners.
Traditional Law firm
Traditionally, business owners seek the help of a licensed attorney when they need legal help in their business. Often, they turn the attorney they know without consideration of that attorney's practice area. Hiring an attorney saves time, gives the business owner peace of mind, and allows the business owner to operate in their realm of genius. If you choose this route, it is vital to vent the attorney to ensure they have experience with your specific issue. While saving time, peace of mind, and the freedom to focus on other areas of your business sounds like every business owner's dream these benefits must be balanced against the cost of working with an attorney in the traditional sense. Most business attorneys charge a consultation fee to assess your legal matter and advise you on your options. Plus, telephone calls and emails add up when you are being billed hourly.
Pro(s):
A dedicated attorney is assigned to your case

Saves time

Peace of mind

Freedom to work in other areas of your business

Member of professional organization that regulates their conduct
Con(s):
Cost

Attorney may not practice your specific area of law

High client to attorney ratio
Legal Zoom
Legal Zoom is an online legal technology company that offers legal aid to entrepreneurs. A legal tech company is a company that uses software and technology to provide legal services and support. Legal Zoom does not employ licensed attorneys to assist their clients therefore they are able to provide legal support at a fraction of what it costs to hire an attorney. Their service consists of gathering information through questionnaires and intake forms and using that information to complete the legal for necessary to complete the legal service. All without the guidance of an attorney. At their basic level, Legal Zoom is a great alternative for entrepreneurs who have a high-level understanding of the law and what is required of them to achieve their legal goals. For an additional fee, clients may consult with an attorney who is not associated with Legal Zoom therefore not available for long-term guidance.
Pro(s):
Saves money

Decent success rate
Con(s):
Not held to the same professional and ethical standards as license attorneys

Does not advise or answer questions regarding the legal service purchased

Additional cost that adds up over time

Mistakes can be very costly to the business owner

Essentially do it yourself with a little guidance
Do it Yourself
A man who has himself as a client is a fool. However, small business owners who understand the importance of making sure their legal house is in order but are not financially able to hire an attorney may find themselves in this position. Google, YouTube, and business-focused Facebook groups offer a plethora of information. Unfortunately, the information can be overwhelming, difficult to understand, or conflicts with other information being shared. Fortunately, if you are preparing your own legal documents, you do not need a license to do so in most cases. DIY is the perfect solution for business owners who need immediate help and have more time than money. By writing their own contracts and other legal services business owners save money on consultations and service fees, however, the money saved may not be as much as the money spent to correct any mistakes or consequences made in the process.
Pro(s):
Cost efficient

Chance to learn information
Con(s):
Overwhelming amount of information

Information may be difficult to understand

Conflicting information floating around makes it hard to know what to trust

High probability of making costly mistakes

The amount of time investment necessary to learn what is needed to DIY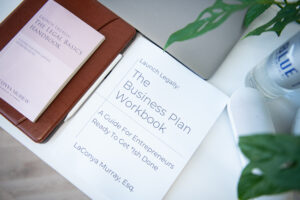 Legal Subscription Programs
Legal subscriptions, not to be confused with legal retainers, are becoming an increasingly popular alternative for small business owners looking for legal support. A retainer is a fee paid to the attorney for their availability and does not include any complimentary services. A business owner will pay for each phone call, email, and service separately. Legal subscription programs, however, offer some services depending on the program. The fees also vary depending on the legal subscription program ranging from $99 a month to thousands of dollars per month. The Genius Insider, for example, provides free consultations and document reviews to its members starting at only $675 to be paid every 3 months. When a small business owner finds a program that is the perfect balance of cost, benefits, and support they reap all the benefits and more of working with a licensed attorney but a cost that makes sense to them.
Pro(s):
Saves time

Peace of mind

Freedom to work in other areas of your business

Licensed attorney that is a member of professional organization that regulates their conduct

Legal support at fraction of traditional legal support

Community
Con(s):
Some programs can be costly

Services can be restricted by where you reside
So What's the Best Legal Solution for Small Business Owners?
You decide. Every business owner's needs are different so the best legal solution for their business will be too. Fortunately, there are more options today which makes getting the support they need easier. While cost is one factor to consider when deciding the best legal solution for their small business, business owners must weigh all the pros and cons offered by each solution.